Top 10 Pesticide Companies in India
Agriculture is the backbone of India and Indian economy. Around 60% of the total population depends directly or indirectly on Agriculture. Due to the food security and shortage of food supply, technology for increasing crop production and productivity is increasing now a days. In order to increase crop production and productivity, farmers are using various agrochemicals. The number of private companies manufacturing agrochemicals in India is increasing rapidly. However, the pesticide industry come under the agrochemical industries is also increasing in the present past.
In this post, we will let you know about the top 10 pesticide companies list in India.
Top 10 Pesticide companies in India
1) UPL ltd
2) BASF India Ltd
3) P I Industries Ltd
4) Bayer Crop Science Ltd
5) Sumitomo Chemical India Ltd
6) Meghmani Organics Ltd
7) Rallis India ltd.
8) Dhanuka Agritech Ltd
9) Bharath Rasyan ltd.
10) Insecticides India Ltd
Furthermore, let us discuss about the top10 pesticide companies in India briefly in the below content.
1. UPL ltd
UPL Company is involved in agrochemicals, industrial chemicals, chemical intermediates, speciality chemicals, and in the manufacture and selling of field crops and seeds for vegetables. It is the biggest frim in the ranking of India's top 10 pesticide firms. Following the purchase of Arysta LifeScience, UPL is the 5th largest agrochemical corporation in the world and is a prime pioneer in global food systems. UPL is currently present in 130 + countries with a turnover of US$ 3.14 billion. The Organization has market access to 90% of the world's food basket and focused on initiating development and progression, including producers, manufacturers, retailers and innovation associates, for the entire agricultural supply chain. The company's net income is ₹2,718 crores (US$380 million) with revenue of ₹35,756 crore (US$5.0 billion) (FY20).
2. BASF India Ltd
Badische Anilin und Soda Fabrik
BASF is an abbreviation for Badische Anilin und Soda Fabrik ("Baden Aniline and Soda Factory" in German). It was founded in Mannheim, in the German-speaking country of Baden, by Friedrich Engelhorn on 6 April 1865.
BASF is the largest chemical company in India. The group aims to improve the value of our group by balanced growth and to keep number one in chemistry. The company portfolio divided into six segments: Chemicals, Products, Manufacturing Solutions, Surface Technology, Agricultural Solutions, and Nutrition & Treatment. It is the second-largest firm in the ranking of the top 10 pesticide firms in India.
For over 127 years, BASF has been a fruitful partner in India's growth. BASF India Limited, BASF 's flagship company in India, is marking 75 years of incorporation in the country in 2019.
3. P I Industries Ltd
Established in 1946, the organisation exists along the Agchem value chain with a distinctive business model, from R&D to delivery, offering creative ideas by collaborating with the best. It was founded and incorporated under the name Mewar Oil & General Mills Ltd.
By being the largest manufacturer of generic molecules like Profenofos, Ethion, Phorate, the frim reached new heights. It is the third-largest firm in the ranking of India's top 10 pesticide firms. In India, the firm is a leader in the implementation of granular formulations and is the largest seller in this market. Known for technical capabilities in chemistry/engineering related services, and on the other hand, over the last 72 years, they have established leading brands and linked more than 84,000 retail points across India. It's total sales is Rs 3,316 Cr with market cap of Rs. 21,247 Cr.
4. Bayer Crop Science Ltd
In 1896, Bayer established its presence in India when Farbenfabriken Bayer and Co. Ltd became the first wholly-owned subsidiary of Bayer in Asia. , was born in Bombay. India is of strategic interest to the operations of Bayer worldwide as Bayer extends its operations in emerging markets. In India, the Bayer Sector comprises the Seed Science and Pharmaceuticals divisions as well as the corporate unit of Animal Health. It is fourth in India's 2019 ranking of the top 10 pesticide firms.
The Crop Science Division is Bayer's largest seeds & traits, crop protection, bio-ag, and non-agricultural pest management (Environmental Science) Company in India. A member of the Crop Science Sector, the Animal Health Business Unit ranks among the leading foreign innovators in its area.
It produces and markets goods and solutions for the prevention and treatment of companion and farm animal diseases. Total Sales: Rs 3,280 Cr Market Cap: 19,134 Cr.
5. Sumitomo Chemical India Ltd
Sumitomo Chemical originates from the Sumitomo Fertilizer Manufactory, which was developed to solve the problems of air pollution caused by the copper smelting activity of Sumitomo at the Besshi Copper Mine (now Niihama, Ehime Prefecture , Japan) by extracting the sulphur from the copper ore that caused the pollution and using it to produce fertiliser. The organisation was founded in 1913. The organisation was founded in 1913. It is the fifth company in India among the top 10 pesticides. They are the best agrochemical firms in India. Total Sales: Rs 2,212 Cr. Market cap: 12,341 Cr..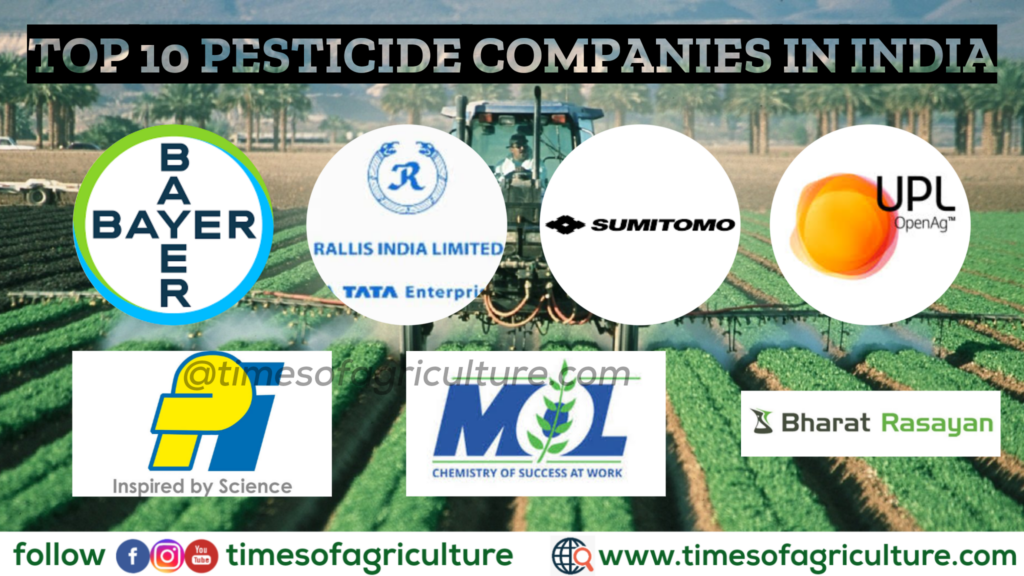 6. Meghmani Organics Ltd
Meghmani Organics is one of the largest manufacturers of pigments and agrochemicals in India. The company is a pigment- and pesticide-based producer in India. Agrochemicals, essential chemicals etc. are the branches of the company. The manufactured and sold pigment segments include Phthalocyanine Green 7, Copper Phthalocyanine Blue, Alpha Blue and Beta Blue.
Technical, intermediate and formulated insecticides are produced and sold through the Agro Chemicals segment. The firm manufactures pesticides for crop and non-crop uses, such as for public health, wood preservation insect protection and storage of food grain. Megastar, Megacyper, Megaban, Synergy, and Bravery are among enterprise brands. Caustic soda, chlorine, and hydrogen form the essential chemical portfolio of the Organization.
7. Rallis India Ltd
With factories spread across four locations, today we have ample capacity in the region, generating more than 10,000 M.T. Professional standard pesticide and formulations of nearly 30,000 Tons / Litres per annum. With more than 1500 distributors and 40,000 retailers throughout India, the industry distribution network encompasses 80 percent of India's districts. Rallis India is seventh in India's 2019 ranking of top 10 pesticide firms.
The company has 11 corporate headquarters, 44 regional sales headquarters, more than 25 warehouses, and 225 nationally well-defined sales territories. It is one of India's biggest agrochemical firms.7 of the top 11 brands were Rallis Brands, according to the new Brand survey conducted to gauge the top of the mind recall of goods in the agricultural industry. Within the Agri farming community, agrochemicals such as Asataf, Contaf, Applaud, Takumi, Taqat, Solubor and Ralli Gold are very popular and trusted trade names today. Total Sales: Rs 2,245 Cr. Market Cap: 4,472 Cr.
8. Insecticides India Ltd
Insecticides (India) Ltd dedicated to strengthening agriculture to make Indian farmers prosperous with a highly efficient and progressive vision and mission. Insecticides (India) is today one of the leading names in the crop defense industry, having made a modest foray into the Indian Agricultural Space in 2002. Today, Insecticides (India) produces all varieties of insecticides, weedicides, fungicides, and PGRs for all types of crops and households, with more than 120 formulation products and 15 technical products. Total Sales: Rs 1,323 Cr. Market Cap: 976.97 Cr.
International relations with Nissan Chemical Industries Limited, Japan for products such as Pulsor and Hakama, and technological cooperation with AMVAC, the United States for products such as Thimet and Nuvan affirm efforts to make Indian farmers' agriculture rewarding.
9. Bharat Rasayan Ltd
Inside the country and abroad, the Bharat Community has built a niche in different segments of pest control. The trio promoted a mega insecticide firm, Bharat Rasayan Limited (BRL), based on their rich collective experience of over 40 years. Alongside the two sister concerns, Bharat Insecticides Limited (BIL) and Bharat Rasayan Agrotech Limited, BRL is currently the conglomerate's flagship enterprise. It is one of India's finest agrochemical firms. The manufacturing units in Bahadurgarh and Rohtak (Haryana), Dahej (Gujarat), Kathua (J&K) and Kala Amb (H.P) based in New Delhi. Plans are underway to modernise the currently obsolete facility near Medak in Telangana.
The product selection includes a wide range of high-quality, environmentally friendly pesticides, fungicides, herbicides, acaricides, etc., suited for all sectors (food and trade), vegetable and flora, public health, home treatment and veterinary care as well as for avoiding declines in trees, storage facilities and granaries. The company has also forayed into the packaging business on a promising note, apart from these. Total Sales: Rs 1,216 Cr. Market Cap: 3,067 Cr.
10. Dhanuka Agritech Ltd
Dhanuka Agritech Limited is one of the leading agrochemical companies in India and is listed by Forbes Magazine in the "200 Best under A Billion Asia Pacific Companies" category. Via its marketing offices in all the prime states in India, Dhanuka has a Pan-India presence. The three manufacturing units with 40 warehouses and a network of more than 14 branches in the Indian area support 7,200 dealers and nearly 75,000 dealers.
With well-equipped quality checking facilities, Dhanuka has three states of art manufacturing facilities in Rajasthan, Gujarat, and J&K. The R&D centre is based in Gurgaon and is recognised for producing research data and testing new chemistry by the Ministry of Science & Technology. With more than 150 registrations including herbicides, insecticides, fungicides and plant growth regulators / bio-stimulants, Dhanuka Agritech Limited has one of the highest market penetrations in the agrochemical industry with over 350 active SKUs. Dhanuka has solutions for cotton, paddy, wheat, sugarcane, pulses, fruits & vegetables, plantation crops, and others for all the main crops grown in the region. Total Sales: Rs 1,085 Cr. Market Cap: 2,461 Cr.
This is all about the top 10 Pesticides companies in India. For more information, comment below.