What is Biopesticide and their Role in Agriculture?
Bio Pesticide Uses in Agriculture: Biopesticide or Bio pesticides are a group of pesticides that have derived from natural materials such as plants, animals, microbes like bacteria, fungi, and certain minerals. For instance, Neem oil and baking soda are natural in origin and have pesticide properties so regarded as biopesticides.
How to make Neem oil from Neem leaves
Uses of Bio Pesticide in Agriculture Farming:
First and the foremost use of Biopesticides is that they are ecofriendly that is essential for the sustainable farming.
Biopesticides are zero toxic or less toxic as compared to the conventional pesticides.
This biopesticides are target specific and affects the respective target pest.
Biopesticides works effectively in small quantities as we compare with the conventional or chemical pesticides.
They are less harmful to the environment and the soil structure as well as texture than the chemical pesticides.
The Agri crop yields are high when we apply biopesticides.
The agriculture produces from using biopesticides are organic in nature and is healthy for human consumption.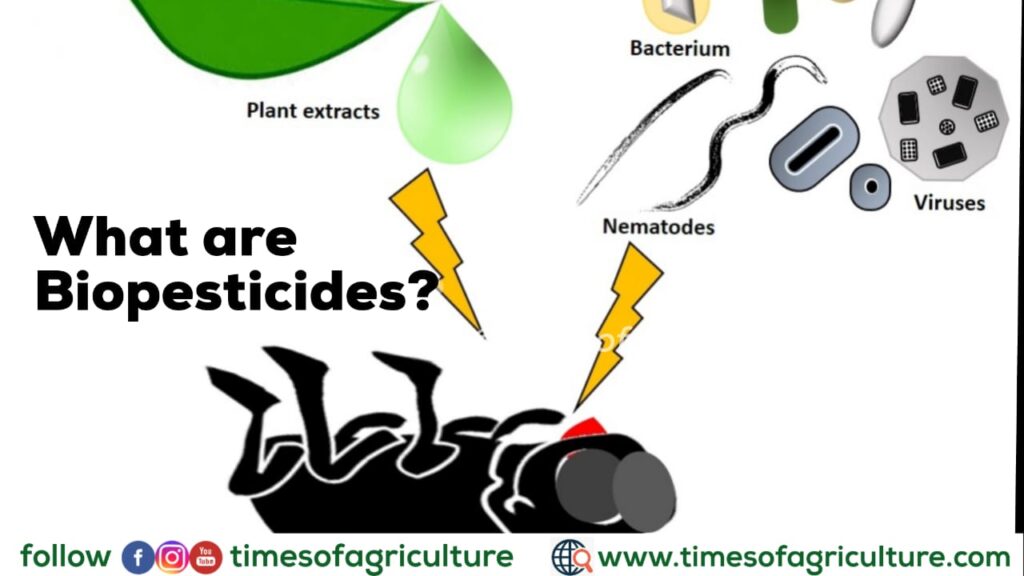 Demand for Biopesticides in Agri Farming
In recent times, post Covid19, almost everyone is looking towards having healthier life with a healthy diet. The demand for organic food is rising rapidly in developing as well as developed nations. This demand for organic food farming is achieved only through using Biopesticides in Agriculture Farming practices. The future scope for organic food may be at peaks according to some agriculture sources. Many multinational companies are looking towards the Biopesticide production industries noticing the future scope of these biopesticides.
For more information regarding Biopesticides and the benefits of biopesticides, comment below.
Biopesticides FAQ's
What are Biopesticides?
Biopesticides are a group of pesticides that are derived from natural materials such as plants, animals, microbes like bacteria, fungi, and certain minerals.
Examples of Biopesticides?
Neem oil, Baking soda, Trichoderma, NPV, Trichogramma
What are biopesticides and its types?
There are various types of Biopesticides viz., Bio Fungicides, Bio Nematicides, Bio Insecticides, Plant oils, etc.,