What is Jeevamrutham & Types of Jeevamrutham
In recent times, many farmers and agriculture entrepreneurs are moving towards organic agriculture farming noticing its high demand and super demand in the coming future. Farmers use chemical fertilizers and pesticides in the conventional system of Agri farming. However, in organic Agri farming, we have to go for the application of natural fertilizers and natural pesticides. Among natural fertilizers, jeevamrthuam is a famous one. Even though, many farmers and agripreneurs are unaware of how to prepare jeevamrutham, jeevamrutham organic fertilizer preparation , jeevamrutham meaning, jeevamrutham organic fertilizer, jeevamrutham benefits, jeevamrutham spray, beejamrutha benefits, beejamrutha uses, what is beejamruth, beejamrutha preparation pdf, what is Ghana jeevamrutham and dhrava jeevamrutham, ghana jeevamrutham usage and other queries. However, in this post we will clear all your queries regarding Jeevamrutham, Beejamrutham, ghanajeevamrutham and dhravajeevamrutham. All these natural pesticides may come under budget natural farming. Let us check it out.
What is Jeevamrutham?
Jeevamrutham is nothing but a natural fertilizer that is prepared from cow dung.
Types of Jeevamrutham
1. What is Ghana jeevamrutham?
Ghana jeevamrutham is the solid form jeevamrutham that acts as a natural fertilizer for the crop plants.
2. What is dhrava jeevamrutham?
Dhrava Jeevamrutham is the fermented liquid jeevamrutham.
3. What is beejamrutham?
Beejamrutham is the dhrava jeevamrutham used for seed treatment.
Jeevamrutham Preparation | Jeevamrutham types preparation
Materials required for ghana jeevamrutham preparation
Desi cow dung – 100 kg
Jaggery – 1 kg
Besan – 1 kg
Polythene sheet
Ghana Jeevamrutham Preparation
Take 100 kg of Desi Cow Dung (Cow dung is good only for 21 days, store it by keeping moist, sprinkle water and store in shade) and add 1kg Jaggery and 1kg Besan.
Furthermore, mix the mixture well and store it as a heap for 48 hrs in a shade.
If the temperature drops below 12 degrees, the heap should be covered with rug sack to maintain a constant temperature for conducive climatic conditions for micro-organisms.
After 48 hrs, spread the mixture on a clean surface and sundry it. Flip it upside down during the day so that all particles get exposed to sunlight and quickly dries up.
Once it is completely dried up break the lumps into powder form with the wooden bat and fill them into sacks and store it in a cool and dry place.
Application of Ghana Jeevamrutham
Therefore, the prepared powder form of ghanajeevamrutam is good enough for the 1 Acre area before planting.
Dosage of Ghana jeevamrutham
How to make Dhravajeevamrutham
Materials required for Dhrava jeevamrutham
Cow dung – 10 kg
Cow urine – 10 lt
Clean water – 200 lt
Jaggery – 2 kg
Pulse flour – 2 kg
Barrel/ Drum – 1 no. (200 lt)
Preparation of Dhrava jeevamrutham
Take 200 liters of water into a barrel.
Then, add 10 kg fresh local cow dung and 5 – 10 liters of aged cow urine.
Furthermore, add 2 kg of jaggery and 2 kg of pulse flour and a handful of soil from the bund of the field (a handful of undisturbed soil is also added to the preparation that acts as an inoculate of native species of microbial organisms).
Stir the solution at regular intervals well and let it ferment for 48 hours in the shade.
Thus, Jeevamrutha is ready for application on the plants or to the field.
After the 48-hour fermentation process, the aerobic and anaerobic bacteria present in the cow dung and cow urine multiply as they eat up organic ingredients (like pulse flour).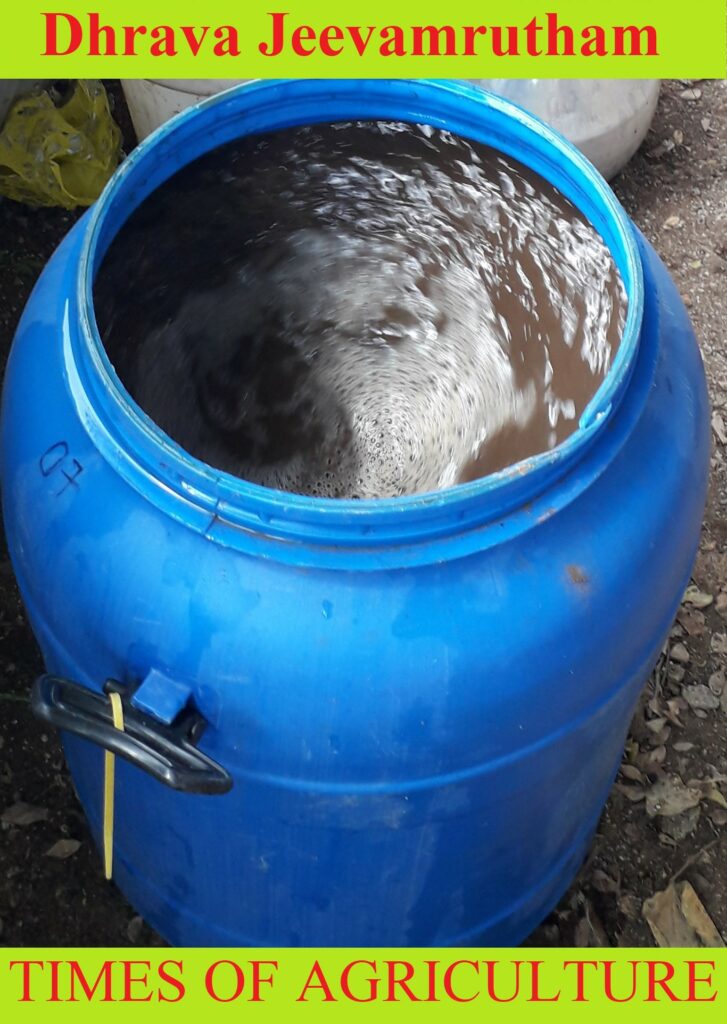 Application of Dhrava jeevamrutham
Apply the jeevamrutha on the crops twice a month with irrigation water or as a 10% foliar spray.
It provides nutrients, and importantly, acts as a catalytic agent that promotes the activity of microorganisms in the soil, as well as increases the activity of earthworms living in the soil.
In addition, it also helps to prevent the disease-causing microbes like fungal and bacterial plant pathogens.
However, Jeevamrutha is only needed for the first 3 years of the organic farming system, after which the soil system becomes fertile and self-sustaining.
Dosage of dhrava jeevamrutham
200 liters of dhrava jeevamruta is enough to apply one acre of land.
Beejamurtham dosage
10 to 15 ml of DhravaJeevamruth per kg seed.
Conclusion: This is all about jeevamutham and types of jeevamrutham. Hence, natural fertilizers are best way to apply to the crop plants as they supply macro as well as micro nutrients to the soil and plants without affecting soil microflora. In addition, they are also easy to prepare in the farm without incurring huge prices as we compare with chemical fertilizers.
Comment below for doubts and more information.